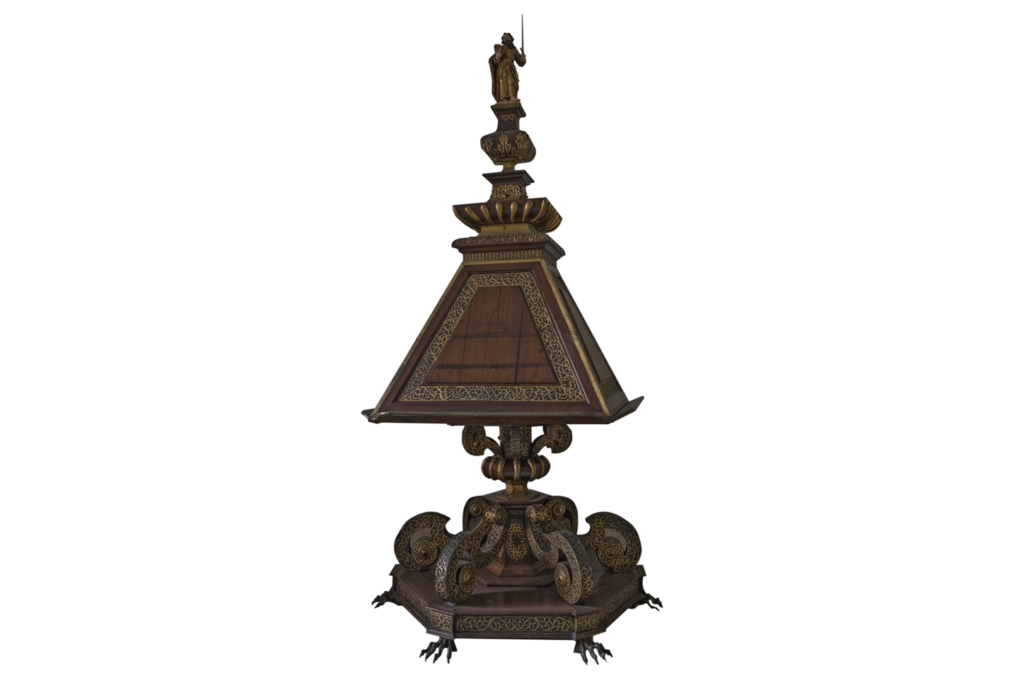 António de Azevedo Fernandes, Porto
1697
Brazilian rosewood; gilded brass fittings; gilded and polychrome wooden image
This lectern was commissioned by Mother Mariana de S. Paulo, abbess of the Royal Convent of Santa Clara of Vila do Conde, and was intended for the upper choir of the convent's church.
The four-faced monumental lecterns are among the most prestigious pieces of furniture of the second half of the 17th century. Polygonal and faithful to the geometric patterns of the 16th century, they are supported on claw-shaped feet, and are made of rosewood with a great variety of gilded brass applications. The lectern is surmounted by a polychrome, gilded sculpture of St Paul.
Description
Choir stand 3.5 meters high and with a pyramidal structure, with a four-sided support for placing song books. It has a hexagonal base from which voluminous volutes emerge that rest at one end, on a plinth with a polygonal structure equal to that of the base. The rosewood surfaces have abundant golden brass trimmings with different applications. The compositions of the metallic friezes vary between floral stylized motifs, topped with fleur-de-lis and buttons or discs appearing at the ends of the scroll friezes. The metal feet are in the shape of a bird's claw. The top ends with the statue of St. Paul, a large sculpture in gilded and polychrome wood, with the attributes of the book and sword.