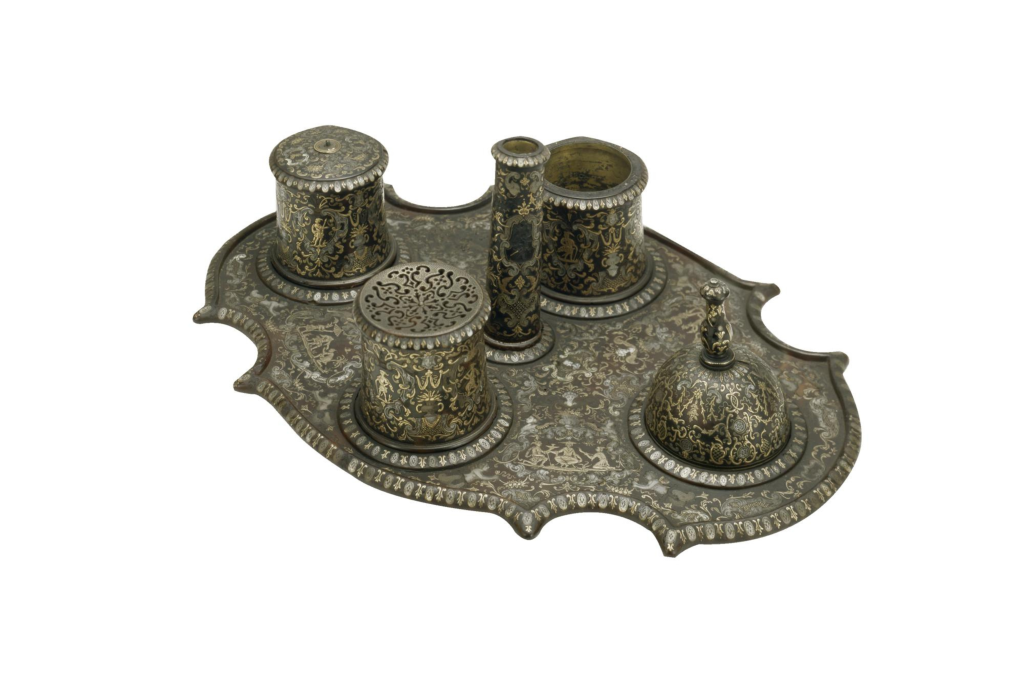 Attributed to Giuseppe Sarao
Naples, Italy
1730 – 1735
Tortoise shell, mother-of-pearl, gold and copper alloy
Inkstand made of hot-worked tortoise shell, with gold and mother-of-pearl inlays in a technique called gold piqué. It comes from the Santa Cruz de Coimbra Monastery, from where it was taken in 1834, following the dissolution of the religious orders.
This piece has been referenced since 1868 as a gift from Pope Benedict XIV to the Pontifical Liturgical Academy he founded in Santa Cruz de Coimbra in 1747.
It was made in Naples and is unsigned and undated. Nevertheless, the design and engraving on the mother-of-pearl and gold features – as well as the characteristics and distribution of these materials together with the piece's decorative grammar – mean it can be dated with some certainty to between 1730 and 1735. For the same reasons, it can be attributed to Giuseppe Sarao, the most famous and best-known of the tartarugari (tortoise shell masters) at the court of Charles of Bourbon, King of Naples, between 1734 and 1759.