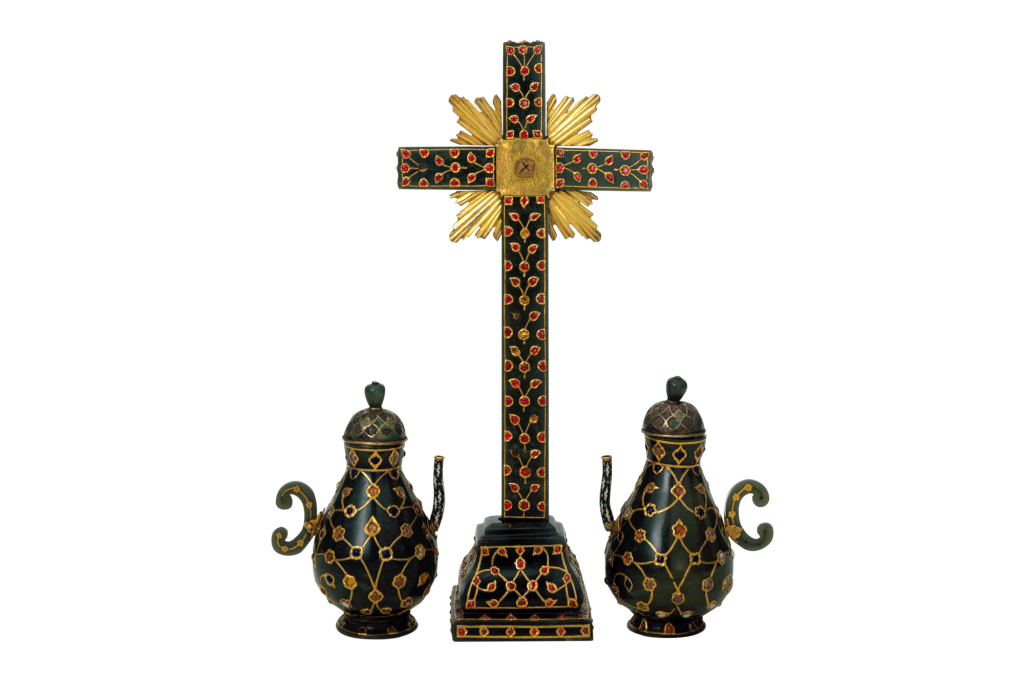 Holy Cross of Christ Reliquary and Eucharistic cruet set
India
Late 17th / early 18th century
Nephrite jade, gold, gilt silver, rubies and colourless glass [cross];
Nephrite jade, gold, gilt silver, blue glass, quartz, topaz (?) and colourless glass doublets, enamels [cruet set].
Inventory sheet – reliquary cross
This set comes from Mughal India, an Empire founded in 1526 and extinct by 1857, which occupied territories now belonging to India, Pakistan, Afghanistan and Bangladesh. It was made in the late 17th century and originally belonged to the Monastery of Santa Maria de Alcobaça, given by João V to D. Lourenço de Lencastre, Abbot of this Royal Abbey.
After the dissolution of this monastery, the pieces became part of the private collection of Ferdinand II and, later, of Luís I, within the Royal Treasury kept at Necessidades Palace. It was transferred to the Soares dos Reis National Museum in 1941.
The reliquary cross stands out from the cruet set due to the quality of the execution of the plant motifs engraved on its two plates, where the fragments of the Holy Cross of Christ are displayed. The application of the gold on the jade and the preciousness of the gems enriching it are also remarkable.