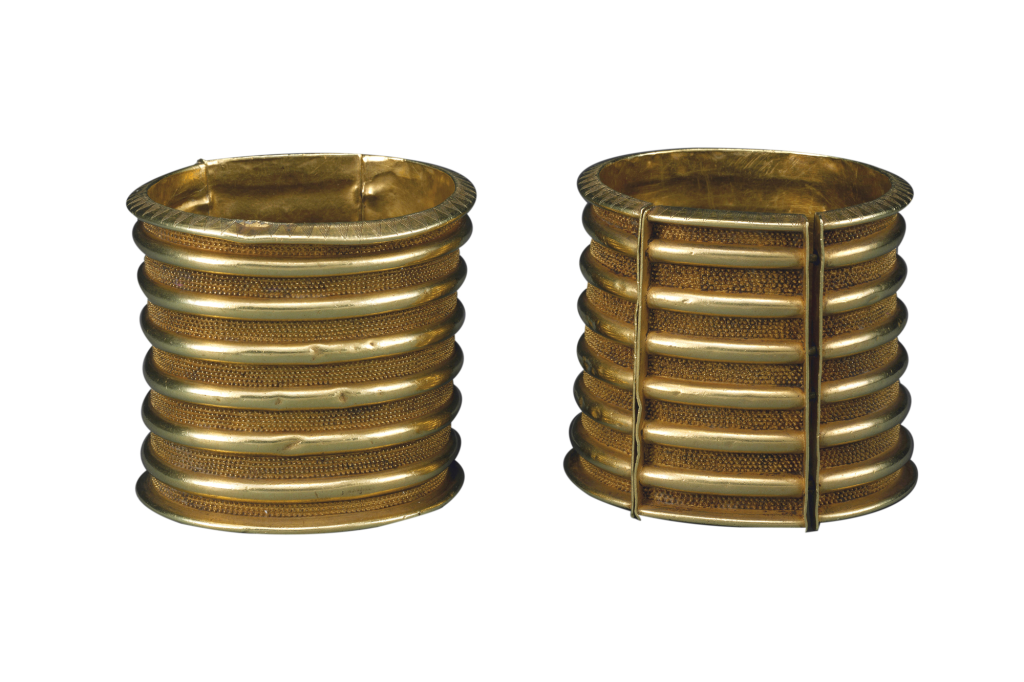 Late Atlantic Bronze / 1st Iron Age – 7th / 6th (end) centuries BC
Randomly found at Rocio de São Sebastião, Castro Verde, Portugal
Gold cast in lost-wax and rolled; incised decoration
These archaeological pieces belonged to the personal collection of the King Consort of Portugal, Ferdinand II (1816-1885), and were held at Necessidades Palace in Lisbon in the second half of the 19th century. In 1941, they were deposited at the Soares dos Reis National Museum.
Recent research has shed light on the history of these pieces, providing information on where they were found and how they were acquired by the king, who recorded all these facts in his own hand.
Part of a random find in southern Portugal, this pair of bracelets is a rare example of protohistoric jewellery – a period of history between the 1st millennium BC and its end. It has special significance and importance, not only in this section of the Museum but also, and above all, in the general context of Portuguese jewellery.
Bearing witness to the flourishing existence of local goldwork from early periods, these solid gold personal adornments reflect knowledge of certain decorative forms, construction techniques and manufacturing processes that are still used today.